Welcome to Faith Formation at SJE
Faith Formation Student Registration Forms for 2022/2023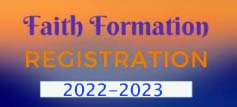 New Students: For children new to our program (entering Grade 1 in the Fall or perhaps just joining our parish) - please fill out the New Student Registration form.
Returning Students (ENTERING GRADES 2-6): We are asking returning students to register for our new "Family of Faith" program (this means your child was in Faith Formation at SJE last year). Please fill out the "Returning Student" Google Form. We are still in the process of assessing our program for next year. We will be emailing you over the summer with more information about our plan for the Fall. (Registration ends in August).
Returning Students Entering Level 7/Confirmation Prep Yr. 1: You and your child must log into our SJE Google Classroom and fill out the Confirmation Application. Directions that were emailed to you. Please contact the office if you have further questions.
Returning Students Entering Level 8/Confirmation Prep Yr. 2: There is no need to fill out a new registration form. We already have your confirmation applications. 
Watch this video below to learn more about our Family of Faith program for Grades 1-6!
Registration Fees 2022/2023

Visit our WeShare donation website to make your family's payment for the '2022-'2023 academic year. This is for families with students entering Grades 1-8 in the Fall (or are entering Year 1 or 2 of our Confirmation prep).
This fee offsets the cost of books and other costs associated with running our program.
The registration fees are $110 for 1 child; $125 for 2 children; $140 for three or more children.
If there are extenuating circumstances that may prevent you from making a payment, please email Michelle Pirraglia, Director of Faith Formation, at mpirraglia@sjecm.org.
Faith Formation Calendars 2022/2023
Volunteers Needed
We are looking for "good shepherds" to help witness to our young people through our "Family of Faith" and Confirmation prep programs. For more information, please visit the following link to fill out the Faith Formation volunteer form. You may also contact Michelle at mpirraglia@sjecm.org or call 631-878-0009, ext. 123 for information on volunteering!
Confirmation Forms
Contact Faith Formation
Phone: 631.878.0009 (then press 5)
Virtual Faith Formation Classroom (includes resources, videos and more for Faith Formation)
Website: sjecm.org
Program Director, Michelle Pirraglia: mpirraglia@sjecm.org
Email address: faithformation@sjecm.org
Facebook: St. John's Faith Formation
Office hours: By appointment only