Belonging - Baptism Preparation Ministry

If you are thinking about having your child or grandchild baptized, you are blessed with some tremendous opportunities and responsibilities! You and the godparents, are about to make an impact on the faith of a young life. By choosing to have your child baptized, you are choosing to allow God into their life. At their baptism the Holy Spirit will place a mark on your child's soul. At that moment, they will forever be a child of God. That mark will remain with them throughout their lives. During the good and the bad our Lord will always walk with your child. So you ask again, who cares? For one, God cares. Your entire extended family here within this parish also cares. The Belonging Baptism Ministry invites you to have your child or grandchild Baptized. It doesn't matter if they are 2 months old or 18 years old. So I ask one last time, who cares? You do. Show the world that you care. If you're interested in joining our ministry please reach out to Anthony Posanti at 631.384.5272.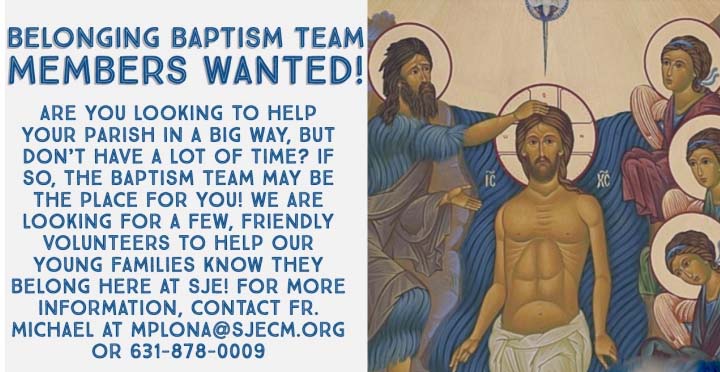 So you want to help with Baptism Prep? Please check the areas that you are interested in!
Lead or help lead a Belonging Class: This includes having the TV set up and playing the different segments on the Belonging DVD as well as ensuring the coffee machine is all set up. Bringing some snacks is always a plus too! This position requires a warm, friendly personality and an ability to make our couples and their children feel welcome here at St. John's!

Help with Baptism Rehearsals: Baptism rehearsals are held on the first Monday of the month in the church at 7 p.m. This is a great way for our couples to get to know and see you. They can't say they don't know anyone here anymore because of you! You will also help them to know what to expect at their Baptism by sharing some experiences of having your children baptized in the Church. Again, big smiles and warm attitudes go a long way here!

Help at Baptisms: Okay, we've made it to the big day and the couples now get to share the joy of having their children baptized with you! You can help our couples in simple ways by helping move them around during the Baptism, help lead them in the response to the prayers and being a warm presence to them. Baptisms are held at SJE on most Sundays at 2 p.m.

Phone Calls: Don't like getting up in front of people? Not sure if you're the warm, welcoming type, but still want to help? Great news! We need people to call up our couples after the Baptism itself to see how everything is going now because Baptism is not one isolated event, but the beginning of a relationship with Jesus and His Church. This position requires volunteers to "follow-up" with our couples, listen to positive experiences and also concerns so we can do better and always letting people know that their place of belonging is in our parish. If you would like to know more, please call or text Anthony Posanti at 631-384-5272 or email to shirleyautobody@aol.com.

Are you having a child? And thinking 'I want to get my child baptized! How great is this?' What a wonderful celebration for our parish when parents bring their child to Church to celebrate the Sacrament of Baptism. First, contact the Parish Office at 631.878.0009 or via email at rectory@sjecm.org to meet with one of our parish priests or deacon. Both parents will need to attend this meeting. Second, you will attend a baptismal preparation class led by our parish staff. You will sign up for this class at the meeting with one of our parish's priests or deacon. Third, baptisms are generally celebrated in English on the 1st, 3rd and 4th Sundays and in Spanish on the second Sunday of each month. You will select this date at your initial meeting.
The Sacarament of Baptism
We love to welcome new people into Catholic faith! Baptism ceremonies are held every Sunday at 2 p.m. Parents wishing to have a child baptized must meet with one of our parish priests or deacon and be part of our Belonging preparation process before the Baptism. Contact the Parish Office at 631.878.0009 or email to rectory@sjecm.org for more information!