11/26 - Praying For Truth: Novena Of grace

Dear Parish Family:
I promise you that I am not just repeating a former bulletin column. I wrote about this same topic last March. I want to repeat what I said in that column. I am always leery to share about some of my own spiritual practices. I would never want you to think because a priest or a pastor finds a certain prayer, devotion or tradition helpful that you must do the same. I believe we do learn from each other and support one another in all aspects of life, especially the spiritual life.
Bishop Murphy ordained me a priest on December 3rd, the Feast of St. Francis Xavier. St. Francis Xavier, like most of the saints, has quite a story. Life did not take him where he may have wanted or dreamed of going. Yet while surprised by the journey, he never failed to respond to God's call of spreading the Gospel to a challenging part of the world. The Novena of Grace is prayed in connection to St. Francis Xavier and since being ordained nearly six years ago, I have grown to have a greater appreciation for this prayer. It can be prayed at any time, but is encouraged around the time of his feast day and the date of his canonization (March 12th). The nine-day tradition of praying constantly has a long tradition in our Church. You probably remember that Paul Clores led us in the Novena to the Holy Spirit between Ascension and Pentecost last Spring.

The Novena of Grace has long enjoyed a reputation for being very effective in praying the truth, in speaking to the Lord of our real desires. The Novena should begin today for those who wish to conclude it on December 3rd. Maybe this could be the something for you. Let me share a little bit of how I carry this out (but, again, just because I do this in a certain way, doesn't mean you have to do the same).
First, I pray with a booklet that I downloaded. As I write this letter, I'm creating a new booklet from that one as well as from a few other resources I have gathered. I'll leave them at the doors of the Church, Seton Chapel and the Rectory. Second, I try to pray the Novena at the same time each day. For me it's about 4:30 a.m. in the morning. You're probably a little more normal than me. Third, I use a version of the Novena of Grace with reflection questions.
I generally try to write down my responses and reflections (and am often surprised at how much I write!). Fourth, I close with the novena prayer. One of the things about the Novena of Grace that makes it effective is the need for the one who prays to be clear about the grace he or she desires. Over the past few years, I have never failed to see God at work in the graces I have sought. I would be dishonest if I said that God followed all of my directions and plans. He usually doesn't. Thank God! I can also honestly say I have never completed the Novena without seeing how God has addressed my prayers.
We're getting close to Advent. As we approach this season, we are often looking for something to keep us focused, to open us up more to the "breaking in" of God into our lives. Often we are looking for something to keep us in the real spirit of the season. Maybe this Novena of Grace might be what you need. Consider picking up a booklet or downloading one from the internet. If you would rather not, that is ok too. Can I ask then that you pray for me in these days of the Novena of Grace?
Father John
11/19 - For to everyone who has, more will be given …. Investing
Dear Parish Family:
The Gospel this week is not meant to be taken as a lesson on financial investment. Yet, it does speak of the investment each one of us are to make in our relationship with Christ and his Church. We are called to be "all in", giving whatever we have (5 talents, 2 talents, this gift or that one, our time, treasure and so on) to the Lord.
Over the past few weeks, I have had the privilege to see a lot of "pay offs" if you will on some of our investments—and it may not be what you think.
Confirmation. On Monday, November 6, we welcomed Bishop Brennan to SJE to celebrate the Sacrament of Confirmation with our parish young people. A lot of time and effort goes into this. Some would look say, "Is it really worth it? Where are they all the following Sunday?" Truth—they all weren't here. Some were here. I hope and am pretty confident we plant a lot of seeds in this process of preparation for and the celebration of the Sacrament of Confirmation. Let's pray they will grow and if they're struggling to grow, they'll always find a place here at SJE!
We offer great gratitude to all our catechists and faith formation leaders who help to form our young people. In a special way, we should be grateful to all those who worked most recently in our 1:8 program, our Faith Formation staff and Michelle Pirraglia, our Director of Faith Formation.
Ernie's Place. Last Sunday, we gathered as a parish to bless and re-name our Food Pantry. "Ernie's Place—St. John's Food Pantry Ministry" will continue to be a place of refuge and hospitality for those in need of some basic food and un-food items. Ernie's Place is currently open from 6:30 p.m. to 7:30 p.m. on Monday evenings and 1 p.m. to 2 p.m. on Thursday afternoons. Please encourage those you know to come and allow those at Ernie's Place to assist them. A population that can often use encouragement is the seniors in our community. They sometimes feel like they are taking from someone else. In reality, they are often the ones who provided the Food Pantry with everything they needed. If there is someone you know who is in need, please encourage them to come. Maybe you can bring them and join them. Your offering of support and invitation may make all the difference.
We can also be part of "Ernie's Place"! Each week, we're going to try to put a shopping list of sorts in the bulletin. When you're shopping in person or online, consider picking up one of the items on the list. You'll see that we have some regular "staples" but the list does vary. You can leave your food donations at the doors of the Auditorium or at the doors of Seton Chapel whenever you come to Mass.
Thanksgiving. We learned this week that Bishop Barres will come to preside at our annual Thanksgiving liturgy at 9 a.m. in the Auditorium. He called this past week and asked if he could spend part of his Thanksgiving with our parish community. Bishop Barres, by his presence, is making an investment in our parish both in his person and in his role as the bishop of Rockville Centre. Realizing this is a different Thanksgiving for many of us at SJE, he is willing to come and be with us. What a gift and a privilege.
As part of the Thanksgiving liturgy, please bring an item or two for our Food Pantry. This will be brought forward in the procession of gifts at Mass. Food pantries often get pretty bare after a holiday. Your investment will make a great difference.
Thank you for the many ways you invest in SJE. I am sure you see the many blessings of the privilege to be part of this community. I know I do. As we invest more, undoubtedly more will be expected. Let's pray we will respond and know the Master's joy (Matthew 25:23).
Peace
Father John
11/12 - East End Holy Hour (by Father Michael)
Dear Parish Family:
As we continue in these days of gratitude and move closer to the feast of Thanksgiving, we have much to be thankful for here at SJE—like so many of the things we spoke at Mass last weekend. Another great gift to our parish has been the presence of Fr. Michael! How blessed are we. Take some time to read a message from him this week.
EAST END HOLY HOUR
I can't believe that it's already been just about a month since our parish made the Total Consecration to Jesus through Mary on October 13th! I know for me one of the greatest challenges everyday is to renew this gift of myself to Our Lord through His Mother. If you're anything like me, you probably fall into the thinking that the Total Consecration is a sort of static act. What do I mean by that? I think we can think about the consecration as just another prayer we made, another "box to check off"…we did it and that's that. How far from the truth! The Consecration that we made on the 13th of October after 33 days of preparation was not an end, but a beautiful, new beginning in our relationship with Jesus and His Mother. As a canyon is formed by a river running through it over time, so our consecration must deepen in us day by day! Like wise, all true devotion we have to Mary must lead us closer to Jesus. (See page 2 for one of the ways we might do this.)
One of, if not, the greatest manifestations of true devotion to Our Lady is a greater love for Our Lord in the Eucharist. Starting this December 1st, our parish will be hosting a Holy Hour for the young (ages 16 and up) and the young at heart. It will be a night of praise and worship music during adoration with the opportunity to celebrate the Sacrament of Reconciliation. Afterwards, we will have fellowship with bon fires and games and more. I would like to ask for your help in two particular ways:
1.) Please pray for the success of this Holy Hour. I don't like that word in speaking of parish events, but what I mean by "success" is that the greatest number of people possible will have a deep, personal encounter with Jesus in the Eucharist and Confession at our Holy Hour.
2.) Encourage others to join you in making it to the Holy Hour, especially any young people you may know 16 and up. All are welcome, but in a special way we desire to encourage our young people to experience the beauty of heartfelt prayer before the Blessed Sacrament!
Desiring to be more totally yours in Jesus through Mary...
Father Michael
11/5 - St. John's Food Pantry Ministry: "Ernie's Place"
Dear Parish Family: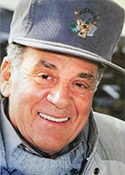 This past Thursday we celebrated the Commemoration of All Souls. On Thursday evening, we prayed with members of our parish who have lost a loved one this past year. It is always a beautiful—and yes emotional—liturgy. As part of the liturgy, we remember each person by name and pray for them and their families.
One name we read and one person we prayed for on Thursday evening was Ernie Vigliotta. Ernie died last November 12th surrounded by his amazing family. We celebrated Ernie's funeral a few days later. What a funeral it was! We were blessed by the presence of Msgr. McDonald who preached a message of hope and even a little humor in recognizing the many ways God used Ernie to touch the lives of so many in our parish life. He had a tremendous devotion and commitment to the priests who served here at St. John's. He offered his life for so many in our parish but especially for the poor and the vulnerable. This continued beyond his life here on earth. After his passing, many made donations to the Food Pantry and Parish Social Ministry efforts here at SJE. This has supported the work of the Food Pantry and so many of our efforts for those in need. What a gift!
After consulting with the leaders of some of our parish's social ministry groups, our Pastoral Team and Ernie's family, we are going to rename the Food Pantry, "Ernie's Place– St. John's Food Pantry Ministry". (You can see a rendition of the new sign to the left of this paragraph.)
Why are we doing this? First, it is not simply about recognizing Ernie Vigliotta. It's ultimately about honoring the amazing way he responded to God's call to serve those in need in the hopes that we might do the same in the midst of this community. When others ask, "Why is this named Ernie's Place?" it will be an opportunity to share about a man who offered his life for the Church as a husband, father, grandfather, relative, friend and parishioner. I hope it serves as an inspiration and a challenge. Whenever I hear about Ernie's life and contributions, as well as the example of so many others here—past and present, I am pushed in my own heart to try to respond to God's call with the same devotion. Maybe the same for you?
The second reason for the name is about those we serve and an opportunity to give them a greater dignity and honor. There is a certain stigma for the poor when they ask for help and even an embarrassment to come to the "Food Pantry". The volunteers do everything they can to make it as easy as possible for the poor and vulnerable to approach and seek support here at SJE. It's probably a little easier to say "Hey—head over to Ernie's Place. They're great. They'll help you with what you need." Even for someone in need to respond to another by saying, "I'm heading to Ernie's Place." It's a little easier than saying, "We have to go to the food pantry."
Next Sunday, November 12 at 1 p.m., we will have a special blessing and renaming of the Food Pantry. I hope you can come and join with Ernie's family and friends as we give thanks to God for a pillar in our community, one whose legacy of offering and response we continue to build upon as a parish family. See you at Ernie's Place.
Peace
Father John
October 29 - In this together... not alone... The Diocese
Dear Parish Family,
The phrase "the diocese" often gets a negative reaction in some circles. With all that is happening these days here at SJE, many have asked, "How is it going with the diocese?" It is often asked with an expectation of a negative answer. At times, in a large organization like our diocese, there can be some frustrations. But the truth there is a lot of strength in being part of the Diocese of Rockville Centre. Here are two examples:
1) St. Agnes Medal of Service. This Sunday I will attend a prayer service with all of recipients of the St. Agnes Medal of Service. Each year, the bishop of requests a name of an individual or couple who have made a tremendous difference in the life of a parish. At SJE, there are so many people who make a tremendous difference, so it's not an easy call.
This year, our Pastoral Team chose Christine Longo to be our parish's recipient for 2017. Christine was one of the first people I met when I came to SJE. She interviewed me in Eagles Wings. Since then, I have come to know an incredible woman of faith and service. Christine is one of the founding members of the Welcome Home ministry. She is behind so many of the events here at SJE from the Fall Festival to Parish BBQ and many in between. She serves as an Extraordinary Minister of Holy Communion and bring communion to the homebound.
Her spirit easily inspires and invigorates others. In addition, Christine has used her gifts to assist with other projects in the parish. For example, Christine has been a key player in helping to make our parish more energy efficient by transforming all of our lights to LED in all of our buildings (Don't you love the auditorium?).
One of the people who does not really agree with our nomination is Christine herself. She is the one to say she does not want this recognition and named some other people she felt more deserving. That humility is one of the reasons she is a tremendous choice for this medal. (I also thinks she deserves a medal for putting up with me over the past year and a few months!) It's a privilege to have this opportunity to recognize Christine's incredible contributions with Bishop Barres and all throughout the diocese. We are all working hard to build up the Body of Christ on Long Island. We're in it together.
2) Restoration of the Church. The restoration of the church building has been a real challenge and frustrating experience for me. People will say that it must be hard working with the diocese. It's actually been quite the opposite. From the earliest moments on May 19th, the diocese has supported and encouraged us. Bishop Perez was here within an hour or two. Bishop Barres prayed with us a few days later. Representatives of the diocese have been a great support to us and helped at a few of the more frustrating moments. Bishop Brennan is in constant contact by checking in on us as is our interim episcopal vicar, Fr. Ed Sheridan.
It's a reminder to me that we're not alone in Center Moriches. The Church on Long Island is praying for and supporting us. We're going to be OK!
I write today as I am leaving from the Fall Clergy Conference. Clergy are invited each Fall and Spring to learn about a topic and gather in prayer and in fellowship. Today's clergy conference focused on issues related to addiction and immigration. Presentations were made by representatives of Catholic Charities, one our most prominent diocesan entities. Coming together today with priests from throughout the diocese, we listened, shared and offered support and encouragement. I wish I could tell you we came up with a great solutions that will address these issues completely. We did not. However, coming together as the Church in Long Island renews our perspectives and our hope. We're in this together.
Peace -
Father John
October 22 - Remembering the Gospel of St. Luke... God is found
Dear Parish Family:
Today, as I write this letter, we celebrate the Feast of St. Luke. During the weekday cycle of readings, we listen to the Gospel of Luke during the later part of the year (from approximately the 18th through the 34th Week in Ordinary Time). We also listen to the Gospel of Luke during Year C of the liturgical cycle. So beginning, Advent 2018 the Gospel of Luke will take the lead in our Sunday readings.
To be up front, if I had a favorite Gospel it would the Gospel of Luke. (Yes, I know I'm the Pastor of St. John the Evangelist, not St. Luke the Evangelist!) There are some unique parts to Luke's Gospel that stand out for me (and there are more than these). It's in Luke's Gospel that we see the Incarnation through the experience of Mary as we read the story of the Visitation and pray the words of the Magnificat. We encounter Zechariah, John the Baptist's father, who comes to a place of belief in God's power! It's in the Gospel of the Luke that we accompany the Good Samaritan and the Prodigal Son and the Lost Sheep and that woman looking for the coin. We meet Zacchaeus and pray with the criminal on the cross.
There are so many places in the Gospel of Luke where I am challenged to be as compassionate and merciful as God is with me. There are many places in this gospel where I am humbled to recognize how compassionate God has been with me.
Recently a good friends shared a book of poetry and reflection from a recent retreat she attended. It contains some beautiful prayers and images based on the Gospel of Luke. On one of the pages, entitled "Litany of Reconciliation" the following words are written: "In the coming of the troubles, God is found.
In the sight beyond our seeing, God is found.
As we come to know the other has a right to be at table, God is found.
In the heart that asks forgiveness, God is found.
In the weary with their burdens, God is found.
In the weeping, in the mending, as our childhood meets its ending,
God is found.
In the famine of your absence, God is found.
In the gap that separates us, God is found.
When together as work to forge a common life between us, God is found."
I think of some of the examples I cited above. Each one—and others—show us how God is found in the midst of unexpected surprises, searching, longing, forgiveness, mercy and redemption. I also think of the work you and I take on each day as a parish. Here where God is found in the Eucharist to be poured out, shared and shown to all we encounter. I think of some of the moments I have seen and experienced this week: the addict struggling to stay clean in the early days of recovery, God is found. The young student being overwhelmed by the challenges of her family, God is found. The pantry volunteers ministering to a family in need, God is found. The Confirmation candidate and his parent going to confession, God is found. The priest seeking direction from one much older and wiser than he, God is found. The wife accompanying her dying husband in her arms carrying him home to Jesus, God is found. Just as there are many other stories of in the Gospel of Luke, there are many other examples of God's compassion here at work.
In the midst of all that is happening here with building, permits, construction and the like at SJE, I sometimes lose that gift of compassion. Sometimes I'm blinded– prevented from seeing—the many places God is found. Let's pray we may seek and find in this week ahead.
Our Lady Queen of Apostles, pray for us! + St. John the Evangelist, pray for us!
Peace -
Father John
October 8 - Chosen and Connected
48 hours
Dear Parish Family:
This past week, so far, many of my interactions and meetings have involved the young people of our parish. The verse before the Gospel which we sing Alleluia before and after the Gospel reads, "I have chosen you from the world, says the Lord, to go and bear fruit that will remain" (John 15:16). As I think of and pray through these encounters it is exciting for me to see the many ways God is calling so many young people in our parish to bring new life to the world.
As always it begins in gratitude! We are blessed with incredible leaders in our parish community, particularly our School Principal, David Erlanger, our Director of Faith Formation, Michelle Pirraglia and our Director of Youth Ministry, Michael Clauberg. What a powerhouse crew that works to both create a place of formation and welcome for our young people. There are others involved too! Keep reading.
Witnesses. This past Sunday, I had the privilege of participating with the 1:8 program once again. As I have written before, I do not think I have seen a more compact, succinct and transformational process for Confirmation preparation. Michelle and Mike serve as the lead for this effort which encompasses so many volunteers. This particular night focused on prayer and concluded with Exposition of the Blessed Sacrament. What an experience to see so many young people focused before the Blessed Sacrament, listening to God's Word proclaimed and singing hymns in this liturgical prayer. I hope, because of this experience, our parish's young people will get in the habit of visiting Seton Chapel (and eventually the Church) to make a visit and pray before the Lord. It was nice to see our parish music ministry and the Knights of Columbus (who helped with hospitality) so connected and invested in the night.
Consolation. On Sunday evening and Monday morning, I had the privilege (I know it's an odd word) to pray with a family in our community and for their son who died after a long battle with addiction. There are no words to express the feelings associated with this moment. Whenever someone we love dies, it is devastating. When a young person dies, in a such a dire way, a greater weight dwells. Yet, the community responded. Our Ministry of Consolation accompanied this family through the entire process. Our Music Ministry poured their hearts (and tears) into leading everyone in prayer. Young people could not help leaving this funeral knowing they were part of a community of faith that wanted to minister to and with them. They could see it as the ministers gathered together after the funeral to support one another after this powerful and exhausting experience.
Protection. On Monday evening, I participated in another VIRTUS training session (we had three last week). Here, parishioners in our parish and others came together to learn about the signs of child abuse and the actions of predators. We talked about the work of our parish and the procedures now going into place to keep our parish a safe place for young people. We all must be vigilant on behalf of our young people. See page 7 for more information.
Connected Disciples. On Tuesday, I had the opportunity to talk with our young adult community. Led by Mat-thew McCarthy and Angela Modica and overseen by Mike Clauberg, this ministry brings together the 20-somethings of our parish to share faith, grow closer to Christ and the Church and to offer their gifts and talents in the midst of the parish and local community. While I had the opportunity to share a little bit, I could not help but leave humbled and in awe of the faith that filled this room. They're working to get even more involved in our par-is, perhaps working soon with our Street Ministry.
All that in 48 hours. Our young people are a vital part of our parish and our ministry here at SJE. Yes, through the "youth ministries" of the parish. They are also connected through the entire community of faith coming together to care for, console and pray for these witnesses and disciples.
Peace -
Father John
October 1: Continued to make progress in the building… (Ezra 6:14)
This past week at daily Mass we have been listening to passages from the Book of Ezra. The passages read on Monday, Tuesday and Wednesday have focused on the rebuilding of the Temple. There's a lot more to the Book of Ezra than this but this part has been pretty present in my prayer and reflection. A large part of this is because of the amount of repairs that have been going on at the SJE campus in these days. I want to take some time to walk you through the number of projects going on and the impact they are having on our parish community. This might take more than a page, so get ready as we walk through our parish grounds from South to North.
Rectory (The Blue House). As we wrote about a few weeks ago, there was a significant roof issue on the front part of the Rectory building. This is the part of the roof that covers the offices. So we are in the middle of clearing up and rebuilding the office space, main foyer and dining room of the Rectory. The roof over the offices had to be entirely replaced (and to be up front the rest of the Rectory room will need to be replaced in the Spring). Insurance monies will help us with the rebuilding of the offices (new walls, floors, paint, light fixtures, ceilings, etc.). The parish paid for the roof replacement. This was not an anticipated expense and we are using the monies raised from the Summer Appeal to pay for this.
Convent (The White House). Over the summer, we worked to set up Seton Chapel and make necessary structural repairs to the building. We have installed air conditioning/heating, repaired the floors, painted and purchased new chairs (we're working on some kneelers too) on the first floor. In the weeks ahead we will finish some lighting work, prepare the walls with sacred art and complete window treatments that will allow the building to be more efficient.
Second, we have created the IHM (Immaculate Heart of Mary) Meeting Room. This is the room that was previously the Living Room of the Convent. It will serve as an overflow for Seton Chapel and also be used as a meeting space for the parish's ministries.
The work above has been made possible by specific donations to the convent building in the past few months as well as from the Convent Fund established a few years ago by Fr. Walter. This money can only be used for the convent building so we are making good use of your generosity.
Third—and the latest— we needed to replace the hot water heater in the convent this week. This was not an anticipated expense. The generosity of the Summer Appeal has allowed us to handle this bill.
School Building. At long last, we are able to begin work on the school boiler. We received diocesan approval last week and the work is already beginning. This is an issue that has needed to be addressed for some time. This work will cost over $150,000 to complete. In the long run, we will save money as the new boiler has more effective controls and is more efficient. For the new boiler, we will split the expense with OLQA but this is a significant hit to our budget. We do have the money in savings to cover this expense but we will need to look at ways to recover this money after the reconstruction on the Church.
This week, we will also begin the installation of new lighting for the Auditorium. This, too, has been an issue that needs to be addressed for quite some time. Most of the lights in the Auditorium do not work. They will be replaced with better fixtures suited for a Gym/Auditorium, will be LED and incredibly more efficient. This cost of this project will be split between the parish and the school. We are receiving some support (credit) for PSE&G for making these improvements. We will use the money from the Summer Appeal to handle this expense. In the Auditorium, we also need to make significant repairs to the basketball hoops. I hope that work will begin the week of October 2 or October 9. This expense will be shared with OLQA and monies from the Summer Appeal will assist us in making this happen.

Third, we will begin work on the demolition of the Auditorium entrance stairs and the installation of a new ramp this week. (NOTE: The auditorium entrance of the school will be closed for two to three weeks beginning this Monday. Parishioners will need to use the main entrance or south entrance doors to the school building.) This has been delayed for a number of administrative reasons which were finally worked out this weekend. The work of the ramp will be covered by our insurance company. As I'm sure you know, more than one parishioner has fallen off of the steps coming out of Mass. We cannot have the ramp installed soon enough!
Fourth, we have started to put new signage around the school building. I want OLQA to be a successful school and place to form young disciples. We need to start letting the local community know that we are a strong presence here. Having good signs that indicate we are open and where to go are good additions. There are more to come!
Church. I write about the Church with the greatest frustration, to be honest. We are almost ready to submit our reconstruction permit. There are a lot of pieces that needed to come together regarding this part of the project. To be up front, again, a lot more than I anticipated. For insurance purposes we need to determine what the present- day costs are for some of the materials in the interior of the Church. Some of these items (like the lights) are no longer made so this delays things as we try to come to a consensus about what is a present day similar replace-men. Once this work is done, we will submit our application to the Town of Brookhaven (whose officials have been incredibly helpful and supportive).
People have asked me about what will be different in the Church. Honestly, I do not feel we have the right to make too many changes to the Church as this is not something that has come from the community. Three things that will change which I have written about before are
Sound system. The system we used in the Church was poor and is no longer made. A new system that would be the present day similar version of the sound system I hope will address many of the concerns we had about sound.
New Lighting. As I wrote above, we need to look at new lighting for the Church. The lights we had were not as effective as they could be and newer technology will allow us to have more efficient and effective lighting.
New Flooring. Almost every parishioner I have spoken to about the Church has indicated a desire to do something about the floor. We will! It will cost the parish some money to do this and we're probably going to need to talk about this in the Fall. We are not going to have the pews out of the Church again ever—I hope! So if we're going to do some floor improvements now is the time!
All of this happens on top of the day to day work of our parish buildings. We are indebted to Charlie Beck, our maintenance person, and Matt Lidonnicc and Alex Romero who assist him. All of this work—including most of the projects above—fall to Katie Waller, our Business Manager, to maintain and follow upon. I can assure you none of the above or the regular day to day work would happen without them.
I wish it were as easy A, B, C (see above) but it's not. It's going to take some time and there will definitely be more complications to come, I'm sure! Everyone is working as hard as they can but everything takes longer than you think!
I'm sure the same is true for the people of the time in the Book of Ezra! Let's pray that we "continue to make progress in the building" (Ezra 6:4) and in doing so "build the house of the Lord" (Ezra 1:5). The building of the house of the Lord does not just indicate buildings. It's building up the Body of Christ here at SJE! May we always be making progress on this front!
P.S. Someone reminded me that I neglected to inform you of the results of the seat survey! The winners are pew 2 and chair C (and it wasn't even close!). These are already figured into our new plans.
Peace -
Father John
September 17: Cross + Sorrow + Hope = Signs of the Spirit
Dear Parish Family:
As I write this letter, I hope you have attended, heard about or were part of SJE Spirit Day. While I am writing before the event happened, I already know it will be a success. The energy and enthusiasm of those who have been part of the preparations as well as the great "buzz" about the day guarantees this success.
I cannot help but see it as an outgrowth of the past months. Actually the two days before Spirit Day are concrete reminders of what has been a transformational time in our parish community. On Thursday, September 14, 2017, we celebrated the Exaltation of the of the Holy Cross. In the Preface of the Eucharistic Prayer on this day, we pray, "For you placed the salvation of the human race on the wood of the Cross, so that, where death arose, life might again spring forth and the evil one, who conquered on a tree, might likewise on a tree be conquered, through Christ our Lord." On this day, I always think of my first parish as a newly ordained priest—the Parish of the Holy Cross. What a great assignment for a priest. What a great parish name. We know the presence of the dark side of the cross—in our own lives, our communities, our Church, our world. Yet we go through it. We go through the cross confident that we can leave behind the darkness and know the light. It's the Paschal Mystery at work. We can see it in these months here, no? How easily darkness could have overcome us and brought us to a place of despair. Yet, your faith has inspired each one of us, including me, to look forward.
On Friday, the Church celebrated the Feast of Our Lady of Sorrows. Here in the Office of Readings, St. Bernard writes, "For if (Jesus) could die in body, could she not die with him in spirit? He died in body through a love greater than anyone had known. She died in spirit through a love unlike any other since his." One of the graces of the Preparation for the Total Consecration of the Blessed Virgin Mary, for me I hope, is to get better at pondering. It's a word the writer of the book we are using refers to a few times in the Introduction. Mary ponders—considers, takes, wonders, gives consideration– the loss of her son. But Our Lady of Sorrows knew this was not all. Yet the sadness remains. Let's not forget that. These months have been trying ones for our parish. Let's not avoid this reality. We have shone through darkness in ways unimaginable but there is still a sadness, of devastation. We unite our journey with Mary praying we may have her heart, her vision, her love and, yes, her gift of pondering.
This brings us to today and Spirit Day. The idea of Spirit Day developed about a month before the events in the Church. Yet, since those events, it seems it has taken off! It's a good symbol of what our parish's life has been in these month. Yes there have been crosses. Yes there has been sorrow. But there have been many reasons for hope! Here are some of the ones I have been pondering:
The gift of vocation and priesthood, most especially through the presence of Father Michael and Paul Clores (now for the whole year)
The beauty of the Summer, most especially our Family Fun Day and Summer Evening Prayer. People have already written for "The HIMS" to come in 2018.
The generosity of so many to our Summer Appeal. As of this writing we have raised over $100,000 to assist us with various necessary projects outside of the repairs and reconstruction work needed in the Church.
The dedication of so many throughout these months—from permits to building ramps to restoring the convent and Seton Chapel to moving chairs to setting up the auditorium. The behind the scenes work here has been amazing.
The patience and flexibility evidenced in so many, particularly our Daily Mass community. We not only pondered but wandered from the Auditorium to the convent to the auditorium. It was a lot of transition.
The outpouring of energy and enthusiasm from the parish and community about Spirit Day. We have nearly 70 sponsors and even more volunteers. Wow!
So the cross, sorrow and hope. All parts of the Christian journey. Yet, through them, many signs of the "good spirit" at work, especially here at SJE! Thank you for always helping me to see those signs. Let's continue to pray for and with one another.
Peace -
Father John
September 10: All life is sacred - Hearing Voices Part II
Dear Parish Family:
A few weeks ago, I wrote about the topic of racism. In the midst of all that was happening after Charlottesville, I referred to being overwhelmed by the number of voices surrounding the issue. On Tuesday, Attorney General Jeff Sessions announced that the Trump administration will end the DACA (Deferred Action for Childhood Arrivals) program if congressional action does not take place to legislatively deal with the issues related to undocumented children. There are some legal issues about the program that should be addressed. That's far beyond my pay grade. There are some significant moral issues related to this program. That is something we need to talk about.
So, once again, permit me to turn to the voices of the teachers of our Church to bring some clarity—the bishops.
Instead of going to individual bishops statements, this time I turn to the United States Conference of Catholic Bishops' statement about DACA. They begin: "The cancellation of the DACA program is reprehensible. It causes unnecessary fear for DACA youth and their families. These youth entered the U.S. as minors and often know America as their only home…Today, our nation has done the opposite of how Scripture calls us to respond. It is a step back from the progress that we need to make as a country. Today's actions represent a heartbreaking moment in our history that shows the absence of mercy and good will, and a short-sighted vision for the future."
The cancellation of this program impacts the lives of children who came to this country at the call of their parents. This transcends party, ideology, etc. Potentially some estimated 800,000 children will be forced to return to their country or risk a tremendous amount to stay in this country. They came to this country often because the violence, poverty, injustice or the presence of evil impelled them to do so, often at great risk. They felt it was their only hope. What have most of them done when they came here? Go to school. Work. Contribute to their local community. Pray in their churches (including ours). Serve our country in the military.
As Catholics, we have to ask ourselves what we mean when we say "all life is sacred". Is returning children to their home countries of violence respecting life? Is deporting hundreds of thousands of children the answer? Is relating a culture of fear forcing children back into the shadows the solution? Is this what we believe as people who are called to welcome the stranger and care for children? Is this how we support life? I hope your answer is no.
The issue of immigration reform goes far beyond this program. The Catholic Church has a well-respected and established plan for dealing with immigration reform. It would be great if government leaders in the USA and in other countries considered their ideals. It might give them a longer term vision for the future.
"We strongly urge Congress to act and immediately resume work toward a legislative solution. We pledge our support to work on finding an expeditious means of protection for DACA youth."
Here's where we come in! We cannot stand on the sidelines without making our voices heard. I urge in these weeks to write to Congressman Lee Zeldin, Senator Kirsten Gillibrand and Senator Charles Schumer imploring them to take the lead not allowing the DACA youth to be returned to their countries while also committing to comprehensive immigration reform. You can do this very easily by going to nyscatholic.org and following their lead.
"As people of faith, we say to DACA youth – regardless of your immigration status, you are children of God and welcome in the Catholic Church. The Catholic Church supports you and will advocate for you."
Here's where we come in again! Many of us know families and children who are undocumented. Imagine what it must be like to hear things like they are hearing these days. How about a phone call or text? Maybe a visit? Maybe a promise of prayer. As a parish we will do all we can. What about you? What about me?
St. Paul writes in today's second reading, ""You shall love your neighbor as your-self." Love does no evil to the neighbor; hence, love is the fulfillment of the law." May we respond to this week's challenge to our brothers and sisters in love and action ...because all life is sacred, right?
Peace -
Father John
September 3: Director of Music ministries
Dear Parish Family:
In preparing to write about liturgical music at St. John's, I was struggling to put the words together. Then, we prayed Morning Prayer (I'm writing on Wednesday morning): "Strike up the instruments, a song to my God with timbrels, a chant to the Lord with cymbals." "Sing to him a new song, exalt and exclaim his name."
"A new hymn I will sing to you my God…" "Sing praise for God, sing praise, sing praise to our king, sing praise…" "Sing praise with all your skill…" I smiled when I prayed these words from Psalm 47 and Judith 16 because they fit in with what I want to write about today. I want to introduce you to our new Director of Music Ministries, Mr. Andrew McKeon. There really is no introduction needed, as Andrew has been a gift to our parish community over the past year. Initially, he "filled in" in a time of great need here last July. Since that time, Andrew has taken on significantly more responsibility and leadership in this important area of our parish's life.

I am in awe of liturgical musicians. Whether it be a gifted instrumentalist or cantor or choir member, I see not only an ability to "play music" or "sing a song". More than that, they reflect on the gifts God has given them and offer them back to the Lord while helping the rest of us to do the same.

More than being an accomplished organist (and he builds them too!), Andrew has built a community of women and men who lead us in praising God. Because of Andrew's presence this year, we have developed a beautiful ministry of cantors and leaders of song, helped to create a renewed spirit among the music ministers and ministries and started the process of bringing the various music ministries and individuals together. So many of you have shared your happiness with the variety of voices and efforts that have allowed to more fully engage in our communal prayer.

In addition to the gifts he brings to this role, Andrew comes from and has been formed by this community of faith. Andrew and his family are members of our parish. He is a graduate from OLQA. Jane Delassalle encouraged his learning and practicing of the organ. He has been part of the music
ministry here at St. John's in different capacities over the past years. For him, I think you have witnessed, this is more than a job or a position in a Church. It's a response to God's presence in the goodness of this community.

This newly created position—the Director of Music Ministries—is an important one in the life of any parish. The United States Conference of Catholic Bishops states, "A professional director of music ministries, or music director, provides a major service by working with the bishop or pastor to oversee the planning, coordination, and ministries of the parish or diocesan liturgical music program" (Sing to the Lord: Music in Divine Worship 45). In his work, Andrew will be doing many of the things he has done this past year but I expect you will see a lot more happening in the year ahead, both in our signing at Mass and outside of Sunday Mass as well. Andrew will also take on administrative responsibilities for many "behind the scenes" things that often get very little recognition but are crucial. In this position, Andrew will be a member of Pastoral Team that helps to lead our parish community. When you greet Andrew in the days ahead, please welcome him to this new position with the kindness and love that you have welcomed Fr. Michael and myself.

This is a unique time for our parish family for many reasons. The creation of this new position and the presence of Andrew McKeon give us more "reasons for hope" in the year ahead. Indeed this is a good reason for us to "sing a new song to the Lord" (Psalm 96:1).
Peace -
Father John